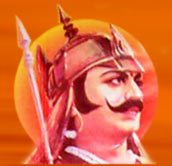 Maharana Pratap Singh Sisodia was born on 9th May,1540 at Kumbhalgarh Fort. Pratap was the heir apparent of Mewar dynasty by right being the son of the eldest of Maharana Udai Singh's eighteen wives. Caught in the snares of love of his Bhatyani queen, Udai Singh hade made up his mind to deprive Pratap of his natural right and give the kingdom to jagmal the son of his favorite queen. He did not express his wish fearing the ability and popularity of Pratap would make the courtiers oppose such a nomination.
Udai Singh died on 28th February, 1572 in Gogunda. Conventionally, the heir apparent to the mewar throne does not participate in the funeral rites. Finding Jagmal absent, the courtiers enquired from the other son Sagar. On being informed that Jagmal is to rule the Kingdom, the courtiers made Jagmal leave the throne and crowned Pratap .
King Akbar was repeatedly making war on mewar to fulfill his imperialistic designs. He won the battle of Chittor perpetrating massive destruction and killing around 30000 civilians . This intensified  hatred for Mughals in the hearts of Pratap and his associates. To defend his honour and dignity,Pratap undertook many battles, ultimately creating history with the battle of Haldighati. Though ending indecisively,for once,the Rajputs forced the Mughals to trust to their heels. On the afternoon of 18th June 1576, the commander of Mughal forces, Man Singh came out to face Pratap.Vadi village, Which is known as Badshah Baag, was the place where Man Singh planned the assault.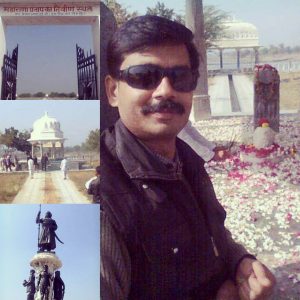 Following his victory in Dewair in 1582, Pratap made Chavand his capital from where he managed the rule of Mewar. After defending the motherland from mughals, the bravest son of Mewar breathed his last in 1597.
On the birth anniversary of Pratap ever year, tribute is paid to this great son of Mewar through cultural programmes with the participation of tribal groups.

The Chetak Horse Festival was established in the year 1992 by Maharaj Narendra Singh, belonging to the royal family of mewar with the purpose to preserve, promulgate and promote the Marwari breed of Horses in India and abroad.
Nearest Airport: Udaipur (67 km.) * Railway Station : Udaipur : 44 Km, * Bus Stand : Nathdwara : 17 Km